If you have an emergency, be it fire, medical, or criminal, always dial 911. All of our Department responses to an emergency come from Marion County Dispatch as a result of your 911 call.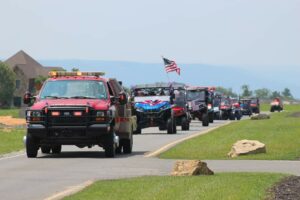 The July 4th Jasper Highlands Fire Department Open House and Parade was a resounding success! Jasper Highlands residents and guests filled the fire hall and enjoyed fire fighting demonstrations, purchased high quality fire extinguishers, ate some delicious baked goods, socialized with new neighbors, and witnessed a terrific parade of decorated ATV's, motorcycles, and fire trucks. That evening there were numerous 4th of July Parties throughout the Mountain. It was a great day! Planning has already started for next year's JHFD 4th of July Open House, and folks, you don't want to miss this one. Mark your calendars because it promises to be even bigger and better!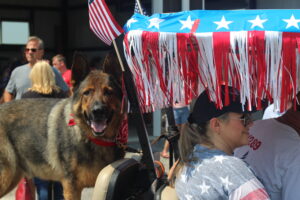 Chief Lowell Hardin, through his professional connections on the East Coast managed to obtain 17 lightly-used Self-Contained Breathing Apparatus (SCBA), 3 industrial firefighting fans, and 2 flood lights from a fire department in Falls Church, Virginia that is in the process of closing. This was a major acquisition for our Department, as all of this critical equipment is desperately needed and was secured for the price of shipping! And it gets better…JHVFD Auxiliary President and Firefighter, Dave Harp, and his wife, Julie, volunteered to drive all the way up to Virginia to pick up this equipment and bring it home! The Department saved thousands of dollars! How big is this? Well, the cost of one SCBA is approximately $6,000., a fire fighting fan is $1,500, and a set of flood lights is $100. If this equipment were purchased new, it would run about $106,700. The SCBA's provide breathable air, allowing trained firefighters to enter a burning structure and fight the fire from within. However, we do have a problem…these SCBA's came without accompanying air bottles. A single air bottle costs about $1,600. Our Department and the Auxiliary will soon be conducting a capital fund raising campaign to raise money for the purchase of new air bottles. Stay tuned, as we will need your support. Thanks again to Chief Lowell, and Dave and Julie Harp for this outstanding acquisition!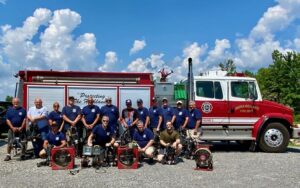 This month's Firefighter Spotlight is on Steve Halverson from California.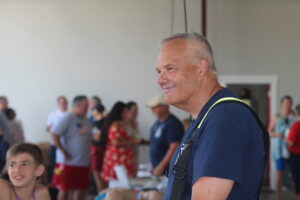 What did you do in your professional life before moving to Jasper Highlands?
I was a High School English Teacher and Honors Instructor for 32 years. I also coached the Swim Team. Before teaching, I was a telephone repairman for Ma Bell in CA after serving in the Marine Corps.
What made you decide to become a Firefighter at this stage of your life?
I was influenced by fellow Firefighter, Steve Summers who talked about it at Church. Actually, I had considered firefighting after the Marine Corps. I took the physical agility and endurance tests, the mental aptitude exam, and interviewed for the Los Angeles Fire Department. I was slated for the summer 1974 training program when the courts declared the list did not have enough minorities and voided my chances unless I wanted to start the process all over again.
What do you like most about the Jasper Highlands Fire Department?
Our Firefighters are a highly motivated, serious, fun loving group that wants to excel in this endeavor. They accept all with open arms and offer encouragement and assistance at every turn. I enjoy their companionship and appreciate their dedication to excellence!
When purchasing merchandise on the internet, please consider using AmazonSmile.com! Amazon will donate .5% pf your purchase price to our Department at no additional cost to you. During sign up simply type Jasper Highlands Volunteer Fire Department, location: Union Grove, AL as that is our charity designation and where our Finance Department is located. This will help us buy firefighting equipment we desperately need!
If you are interested in joining our team, call our local boss, Cliff at 423-309-2842. Thanks!
RD Johnson
Firefighter