If you have an emergency, be it fire, medical, or criminal, always dial 911. All of our Department responses to an emergency come from Marion County Dispatch as a result of your 911 call.
There is a substantial increase in traffic coming up and going down the main Mountain Road from Kimball. This is a result of the new and successful Top of the Rock Restaurant at the main gate. Additionally, heavy construction traffic has been on the rise with the sales and construction of many new homes. This road can be very dangerous as non-residents may not be familiar with the curves, steep grades, and minimal shoulders. Please use your knowledge and familiarity of this Mountain to your advantage…always buckle up, drive defensively, and look out for the other guy!
Recently, JHFD responded to a mutual aid call from Jasper to help fight a fire at the local Western Sizzlin' Restaurant in the valley. Luckily the roof fire was mostly extinguished upon our arrival, but we did assist in victim search, smoke ventilation, and cleanup operations. JHFD was the first mutual aid Department called, followed by Kimball FD, Sequatchie FD, and South Pittsburg FD. We continue to build relationships with our FD partners in the valley.
Fire Prevention week in early October was a terrific success. The Department and the JHVFD Auxiliary kicked off the program with an outstanding Meet & Greet Your Local Firemen at our favorite restaurant…Top of the Rock. It was a beautiful outdoor October evening, great food and beverage, excellent attendance, and the opportunity to meet new friends and neighbors….I think everybody can say that the biggest take away of the evening was: " Neighbors Helping Neighbors". Later, on October 11, Auxiliary President Dave Harp and the JHVFD Auxiliary put on an outstanding FD Open House at the Fire Hall on a very rainy Saturday. Again, attendance was excellent, there was cider and cookies, and a great presentation by our own Lieutenant Rich Hahn regarding detailed procedures and operations on the JH Mountain during a 911 Emergency, to include FD response, and ambulance and helicopter services. Chief Lowell Hardin accepted donation checks from Mary Matthiensen and Suzanne Montague. We sold many quality fire extinguishers and fund raising raffle tickets for a Big Green Egg BBQ Grill (please see attached flier for your chance to win The Big Green Egg…drawing in Dec.). Our next big FD event is our annual Chili Cook-Off at Pats Summit on November 14, at 4pm. Don't miss this event for lots of fun and surprises and some really great Chili!
JHFD Firefighter, Mike Durfee, a retired US Forest Service Woodland expert was recently recalled back to service to go out to California to help fight the terrible fires in that state. He served in the Sierra National Forest near Yosemite National Park. We know he did great things out there and we are thankful for his safe return. Mike is excited to be home as he and Lauren just moved into their beautiful new home in Sunset View!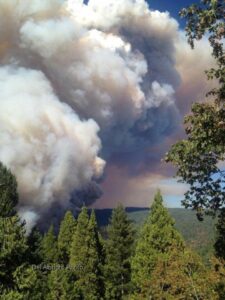 This month's Firefighter Spotlight is on Lieutenant Rich Hahn from New Jersey. Rich is one of the most experienced and brilliant members of the Team.
What did you do in your professional life before moving to Jasper Highlands?
For the past 30 years I have been employed as a Regional Controller for the Travelers Group of Insurance Companies. I hope to retire within the next 24 months. I really love my job but I look forward to retirement in the great community of Jasper Highlands.
What made you want to become a Firefighter at this stage in your life? 
As I hail from New Jersey, I was a volunteer Firefighter for 28 years and then became an EMT for another 8 years after that. Once you have it in your blood, it is always there, the commitment to helping your neighbors, the feeling you get inside when you put out a fire or save a life.
What do you like most about Jasper Highlands Fire Department?
In my past fire departments the younger folks would be very active and the older members would start to step away into the shadows. In JHFD, it is very different. The members here are very dedicated, extremely active, and always seeking knowledge. Our members all come from various professional positions and bring a wealth of experience to the Department. Our officers, Lowell, Cliff, and Ken are great leaders and have a great vision for the future of our Department. We are Neighbors Helping Neighbors!
When purchasing merchandise on the internet, please consider using AmazonSmile.com!  Amazon will donate .5% of your purchase price to our Department at no additional cost to you.  During signup simply type Jasper Highlands Volunteer Fire Department, location: Union Grove, AL as that is where our Finance Department is located.  This will help us buy firefighting equipment we desperately need!
Photos of recent JHVFD events!
If you are interested in joining our team, call our local boss, Cliff at 423-309-2842. Thanks!
RD Johnson
Firefighter