If you have an emergency, be it fire, medical, or criminal, always dial 911. All of our Department responses to an emergency come from Marion County Dispatch as a result of your 911 call. During a medical related call, our Department will respond with our EMS and EMT personnel along with supporting Firefighters to stabilize the patient until Marion County Ambulance Service (Puckett Medical) arrives for transport to a hospital. This usually takes a few minutes. This procedure is the authorized and most efficient means of getting medical help on the Mountain in an emergency. Please understand that Jasper Highlands is on top of a mountain and is a rural gated community. It is geographically located at the corner of 3 State County jurisdictions: Marion County Tennessee, Jackson County Alabama and Dade County Georgia, all within a few miles of each other. Ninety percent of emergency calls would be handled by the Marion County Tennessee office. However, it is possible that one of the two other out of state Counties may respond if Marion County is booked up with simultaneous emergency calls and signal tower traffic. Not to worry because Jasper Highlands emergency responders will be on the scene to stabilize the patient and take appropriate action until the ambulance arrives. Just call 911.
When it comes to landscaping around your new home, consider ditching the mulch and pine needles, particularly at the perimeter of the residence. Instead, consider using attractive gravel, river rock, lava rock, or some other stone related material. Stone based materials reduce fire exposure to residential structures during brush and forest fires. In dry periods mulch and pine needles can become very combustible and dangerous. In wet periods they can harbor mold and insects. Mulch and pine needles can become costly over time requiring addition or replacement almost annually. Stone based material, while a bit more pricey up front, can last for decades. Stone based materials are aesthetically appropriate to the mountain home, house minimal mold and insects, protect against erosion, and resist fire.
Firefighter Steve Summers, retired Naval Officer, and Firefighter Steve Halverson, retired High School English Teacher and Honors Instructor, have recently volunteered to enroll in the State of Tennessee Fire Safety Inspector Program. When the "Steves" graduate from this course, JHFD will have our own certified Fire Inspectors for commercial and residential structures on request. This will further enhance our fire safety on the Mountain and improve our ISO (Insurance Services Office) ratings.
When purchasing merchandise on the internet, please consider using AmazonSmile.com! Amazon will donate .5% of your purchase price to our Department at no additional cost to you. During sign up simply type Jasper Highlands Volunteer Fire Department, location: Union Grove, AL as that is our charity designation and where our Finance Department is located. This will help us buy firefighting equipment we desperately need!
This month's Firefighter Spotlight is on Jim hale from Virginia.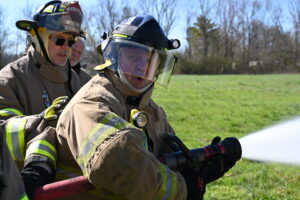 What did you do in your professional life before moving to Jasper Highlands?
I was Vice President of Sales and Operations for Cardinal Health, a Medical Technology Company.
What made you decide to become a Firefighter at this stage of your life?
 I grew up in a Firefighter household. My Dad and Uncle were career Firemen and I was exposed to that world and its uniqueness at an early age. I knew it was no guarantee that my Dad would make it home every time he left for work. I also remember him laying in our living room on a stretcher after returning home from a fire and the hospital, suffering from smoke inhalation. They had fewer SCBA (Self Contained Breathing Apparatus) devices in those days. I was always in awe of his bravery. Having completed my career, JHFD offered me the special opportunity to participate with a notable group of volunteers that are committed to others.
What do you like most about Jasper Highlands Fire Department?
JHFD is creating something from scratch that will outlive all of us. I enjoy the chance to help lay footers for what is becoming, a top-notch public service organization. There is certainly the passion, commitment, and camaraderie of its members, but there is also something bigger. It is creating a foundation that will be core to the protection of the community as it grows and prospers in the years to come. I feel fortunate to serve along side the men and women of this Department.
If you are interested in joining our team, call our local boss, Cliff at 423-309-2842. Thanks!
RD Johnson
Firefighter