If you have an emergency, be it fire, medical, or criminal, always dial 911. All of our Department responses to an emergency come from Marion County Dispatch as a result of your 911 call.
JHFD is looking for residents who would consider becoming Volunteer Firefighters. 
The exceptional growth of the Jasper Highlands Community has expanded the fire protection requirements for the Mountain.  Fire Station #2 is currently under construction at Jasper Farms, and we are in the process of obtaining Fire Engine #3.  We need more manpower (men and women) to help protect our beautiful Mountain Community.  Our volunteer firefighters are mostly retired men and women and come from all walks of life with a rich variety of skill sets.  We will train you and we will not ask more of you than you are capable of accomplishing.  Our leadership is comprised of trained professionals with decades of experience in emergency service operations.
Becoming a Volunteer Firefighter requires training and dedication.  We respond to medical emergencies, structure fires, brush and forest fires, and automotive accidents.  We receive little to no monetary compensation, but the chance to serve the Community is an extremely rewarding and exciting experience…Neighbors Helping Neighbors.  We perform the same tasks as career firefighters and are equipped with some of the finest emergency service equipment available.  The job can be dangerous, but our extensive training mitigates those risks.  Our team members have become friends for life and our #1 priority is looking out for the safety and welfare of our fellow firefighters so that we may help those in need.  Our enthusiasm is excellent, and we are rapidly becoming one of the top Departments in the County.  We would love to have you join our team!
Please call Chief Lowell at 256-529-1658.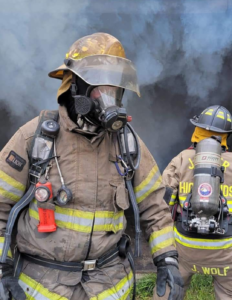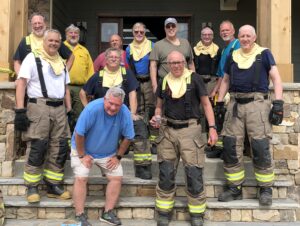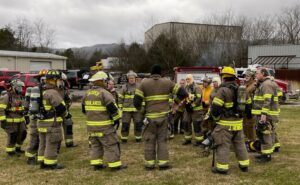 On Saturday, September 11, 2021, 70 residents of the JH Community observed a beautiful 9-11 tribute for the victims, heroic First Responders, and our Military during that fateful day, 20 years ago.  The event was held at the Jasper Highlands Community Park in River Bluffs.  Firefighter, Rick Skatula, organized the event and served as Master of Ceremony.  Fire Inspector and retired Naval Officer, Steve Summers, gave a moving speech, describing the events as they unfolded at the Pentagon.  He was there.
Never Forget…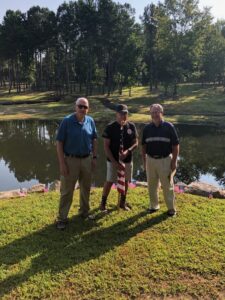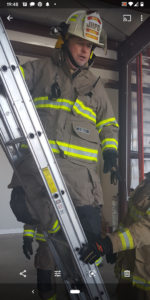 This month's Firefighter Spotlight is on Chief Lowell Hardin.
What is your current occupation and what are your primary responsibilities?
I am a Senior Consultant with Philips Healthcare Transformation Services.  I travel the Country working with hospitals to improve Emergency Services, flow, and operations.  I am currently managing an Emergency Department and a COVID response system in North Carolina.

What made you decide to become a Firefighter and First Responder?

With my Mom's consent, my brother and I joined the local volunteer fire department around the of age 15.  We regularly responded to fire and EMS calls.  At age 17, I attended EMT school, continued my medical education and training, and ultimately became a Paramedic and Registered Nurse.  I have served in a variety of emergency service roles, over a 35 year span that include Firefighter, Paramedic, and EMT Officer.  I currently hold a Master's Degree in Nursing Administration and I am a Board Certified National Healthcare Disaster Professional.

What do you like most about Jasper Highlands Fire Department?

I enjoy the camaraderie, energy, vitality, and growth of JHFD.  Each member brings life and professional expertise to the table.  I enjoy our training as the questions are in depth and thoughtful.  Each member is eager to do their best.  Most firefighters and Chiefs never get the opportunity to grow with a new department.  I am extremely grateful.
Recently, Firefighter BJ Borresen, completed the Tennessee Emergency Medical Technician Certification Course to become our fifth Medical First Responder in the Department.  This difficult course included 6 months of study, laboratory course work, and real time ride along with First Responder Departments in Chattanooga.  BJ currently is employed as a Nurse Anesthetist in Winchester, TN.  BJ has been a Registered Nurse for over 27 years, focusing primarily on critical care and anesthesia.  Congratulations BJ!
If you would like to join our team, please contact Chief Lowell Hardin at ph. 256-529-1658.  Thank you and stay safe!
RD Johnson
Firefighter