Current Needs and Donations
Your donations support the essential work of our dedicated JHVFD.
Jasper Highlands is serviced by a volunteer fire department.  Each home and property owner pays an annual fee for operating costs for JHVFD, which includes the trucks, uniforms, training and other necessities.  
Donations and fundraising monies go toward purchasing additional needed items for the Fire Department, and supporting other activities conducted by the Auxiliary.
There are several ways to donate, and all forms are much appreciated!
The fire department maintains a list of currently needed items. These are the items the Auxiliary focuses on when conducting fundraising activities. Reach out to a member of the Fire Department or Auxiliary if you are interested in purchasing one of these items.
| | | | |
| --- | --- | --- | --- |
| Item | Estimate Each | Amt | Subtotal |
| Blitzfire Monitor w/nozzle | 5,035.00 | 3 | $15,105.00 |
| RIT Pack (Rescue) | 3,500.00 | 3 | $10,500.00 |
| Generator to power Station 1 | 30,000.00 | 1 | $30,000.00 |
| 5″ hose  | 662.00 | 28 | $18,536.00 |
| Battery Powered Extrication System | 35,000.00 | 1 | $35,000.00 |
| SCBA Bottles | 1,100.00 | 4 | $4,400.00 |
AmazonSmile is a website operated by Amazon with the same products, prices, and shopping features as Amazon.com.  The difference is that when you shop on AmazonSmile, the AmazonSmile Foundation will donate 0.5% of the purchase price of the eligible products to the charitable organization of your choice.  It has no cost to the user.
Please click here to register Jasper Highlands Fire Department as your Amazon Smile charity:
https://smile.amazon.com/ch/81-1422561
Also, please tell your friends and family to register Jasper Highlands Fire Department as their charity as well.  Thank you!
Anyone wishing to donate to our Jasper Highlands Volunteer Fire Department can make a check payable to JHVFD Auxiliary, and mail it to:
Jasper Highlands Volunteer Fire Department Auxiliary
c/o Anna Johnson, Treasurer
170 Hovering Hawk Dr.
Jasper, TN 37347
Upon receipt of your check, a receipt will be forwarded to you for tax purposes. The department is a 501(c) 3 and your donations are tax deductible.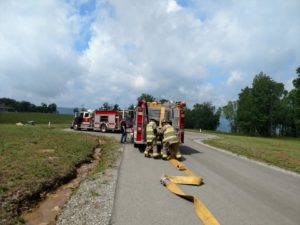 In 2021 JHVFD purchased $134,580 worth of supplies and equipment for the fire department.  This included:
| | | |
| --- | --- | --- |
| Item | Estimate Each | Subtotal |
| Equipment for Engine 3 | $18,000 | $18,000 |
| 3 — Multi-gas detector | $1,350 | $4,050.00 |
| 2 — 1 ½" nozzles  | $520 | $1,040.00 |
| 6 — Wildland Gear | $650 | $3,900.00 |
| 6 — Structural Gear  | $3,000 | $18,000.00 |
| 3 — K Tool | $175 | $525.00 |
| 12 — SCBA (replacement) | $7,000 | $84,000.00 |
| 3 — Rescue Saw – Battery operated | $1,150 | $3,450.00 |
| 3 — Ventilation Chainsaw – Battery operated | $885 | $2,655.00 |
| 6 — Sawzall – Battery operated | $200 | $1,200.00 |